Þetta var fyrsta prjónaferð á árinu með 17 konum frá The Gourmet Yarn Shop.
DAY 1 – Best way to start a knitting tour? At the Blue Lagoon, knitting under the snow! We did enter the lagoon under a radiant sun though.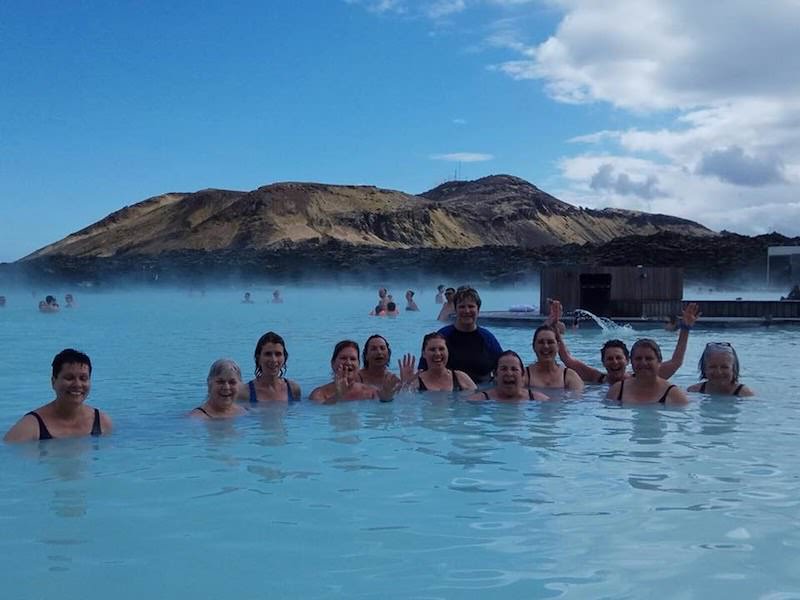 It had stopped snowing when we came out of the lagoon. Of course for the occasion I was wearing my Gamlalón sweater (inspired by the old lagoon) and a matching Icelandic Spring Shawl (knitted respectively with Gilitrutt and Love Story who come in the same color palette: convenient!).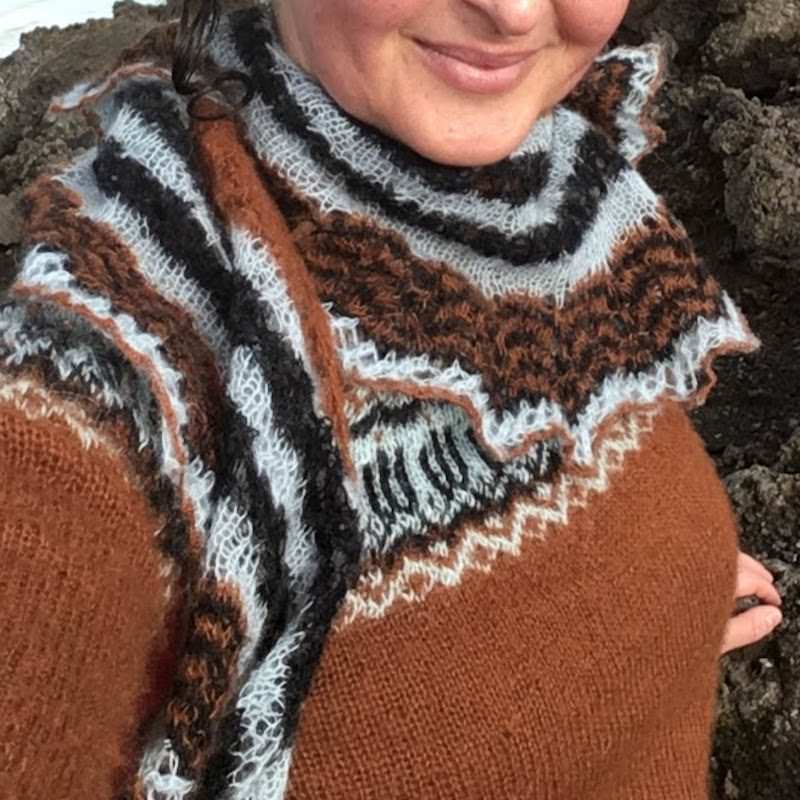 DAY 2 – lovely yarns, plantdyed, new places… we may have increased our stash… I certainly did!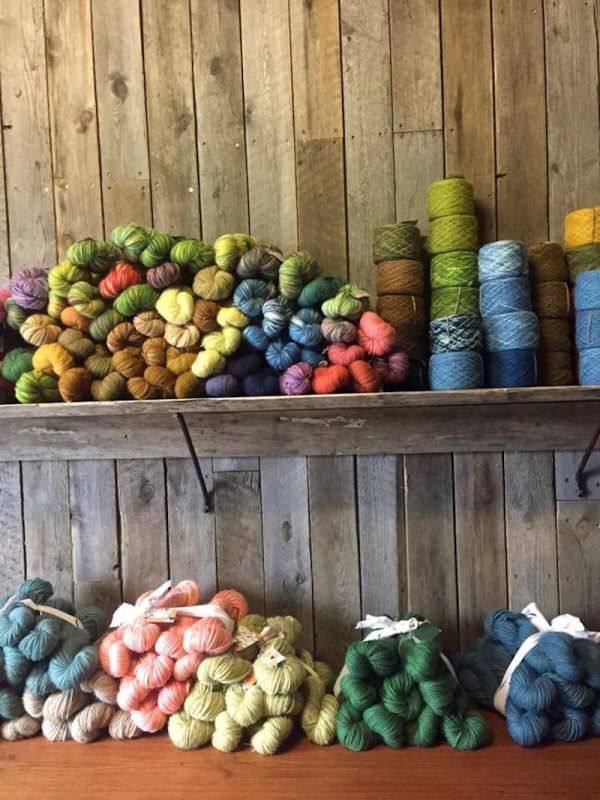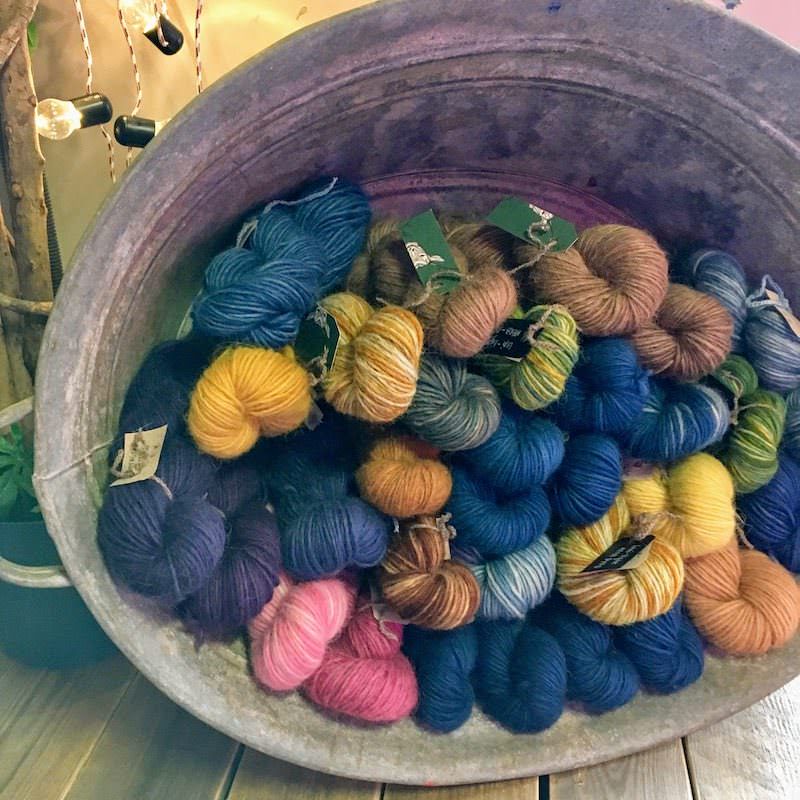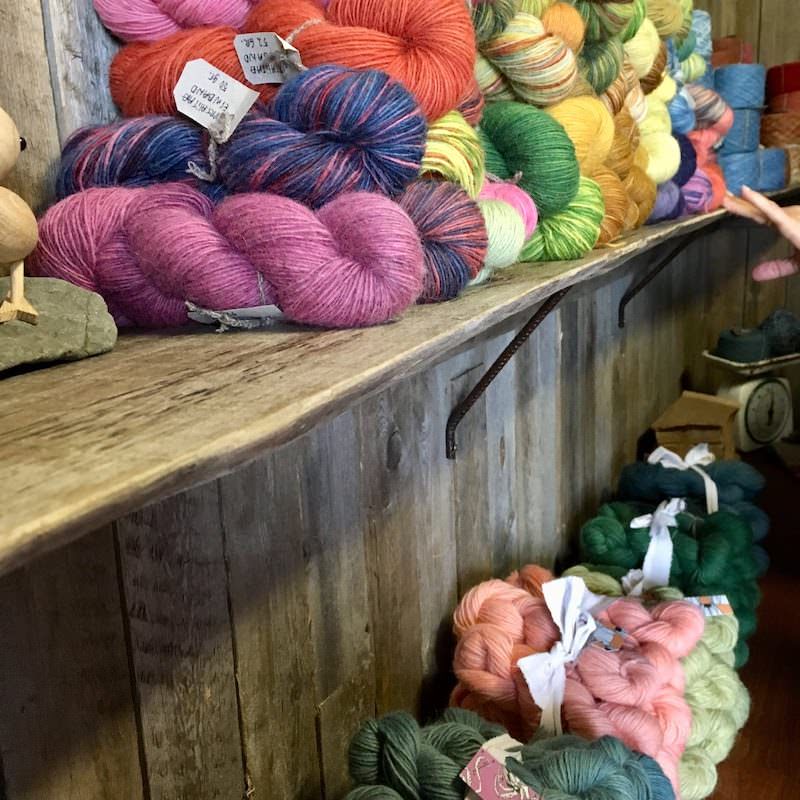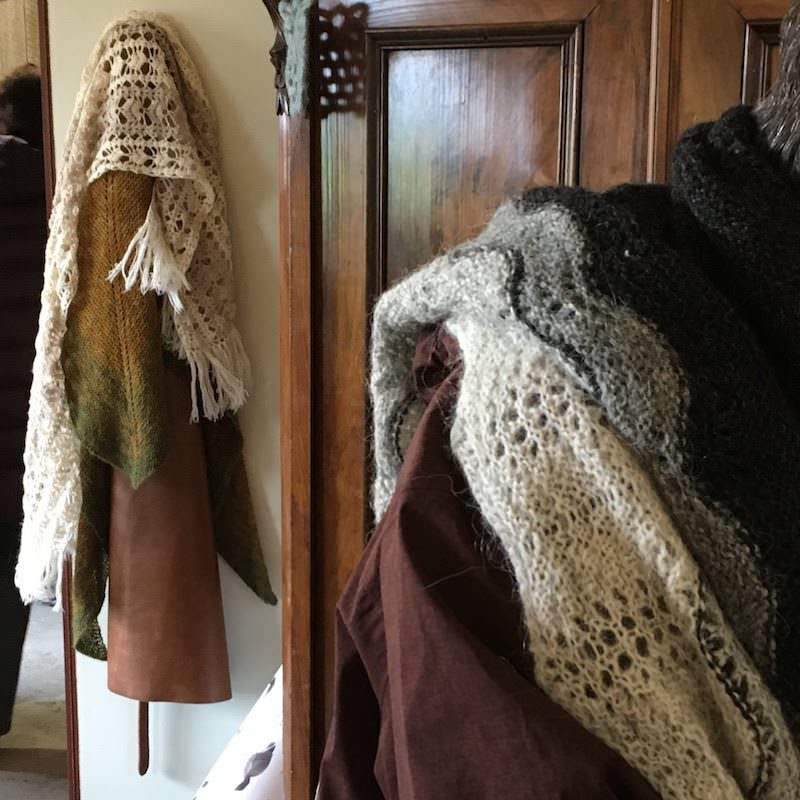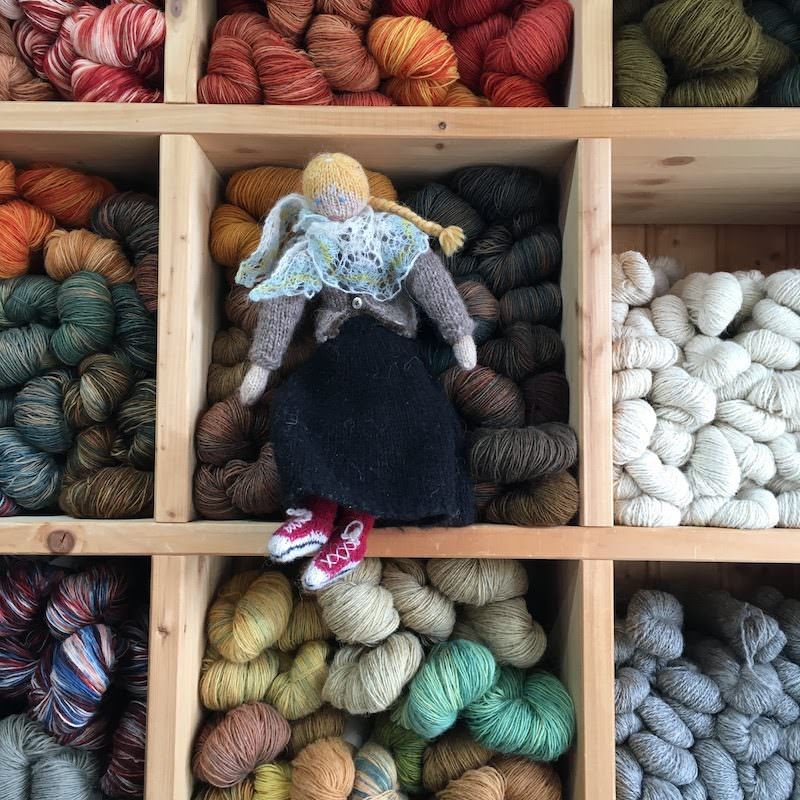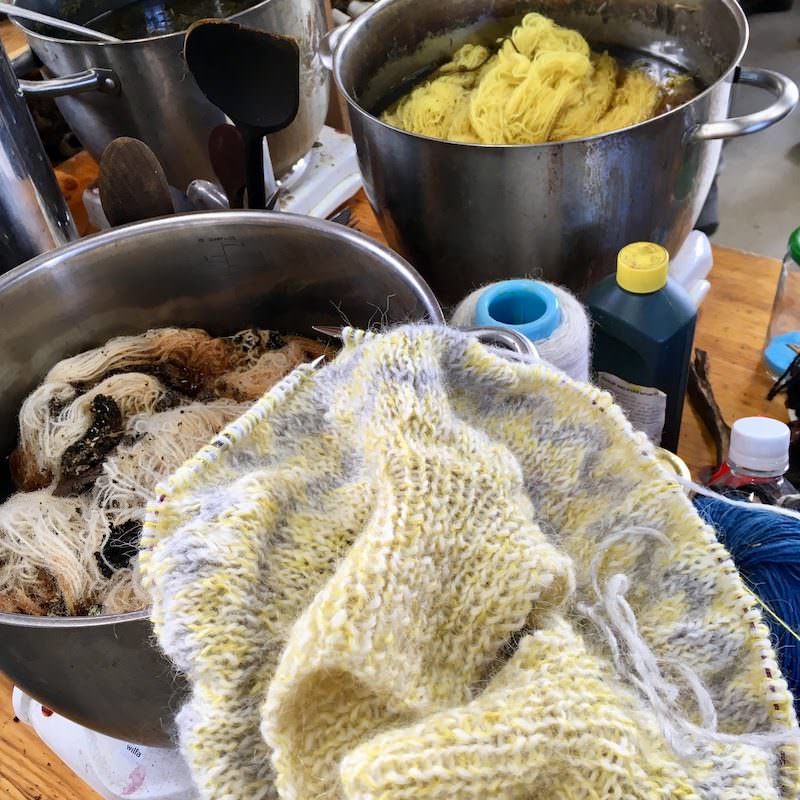 The weather continued acting like crazy, alternating sun, snow, blizzard, hail in the same 20 mn…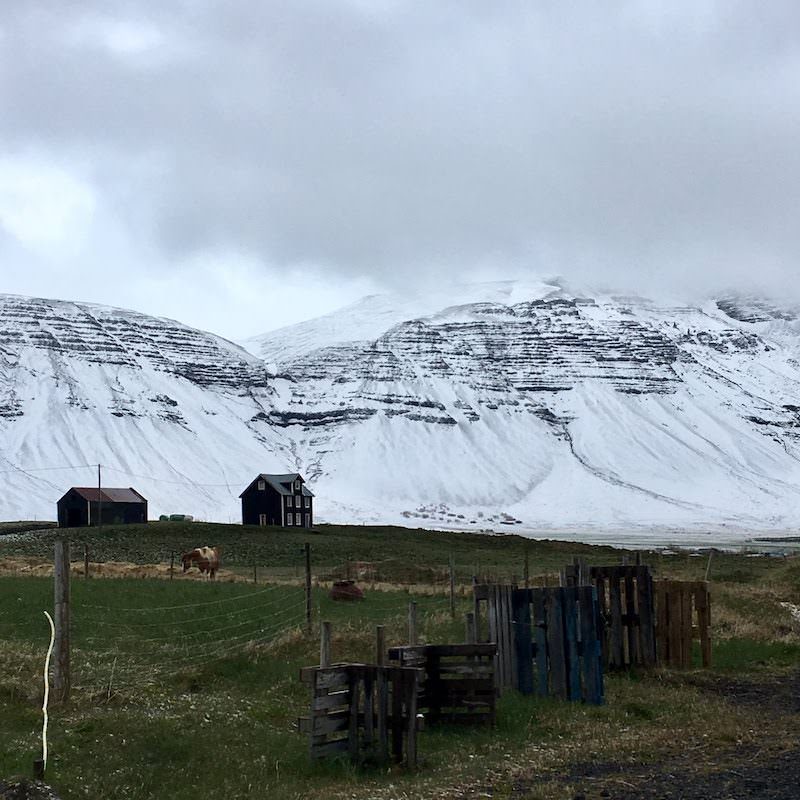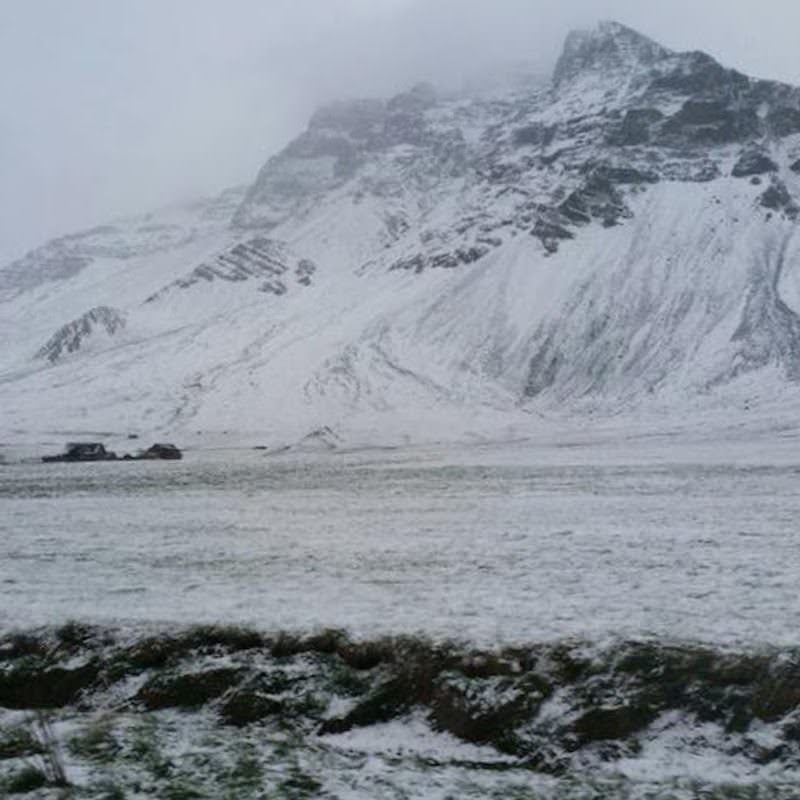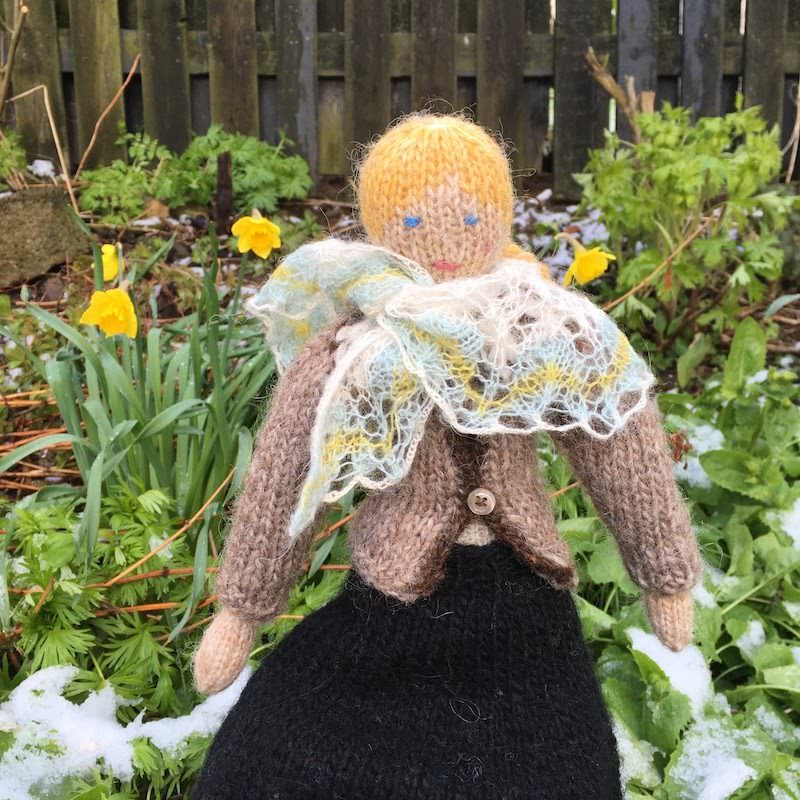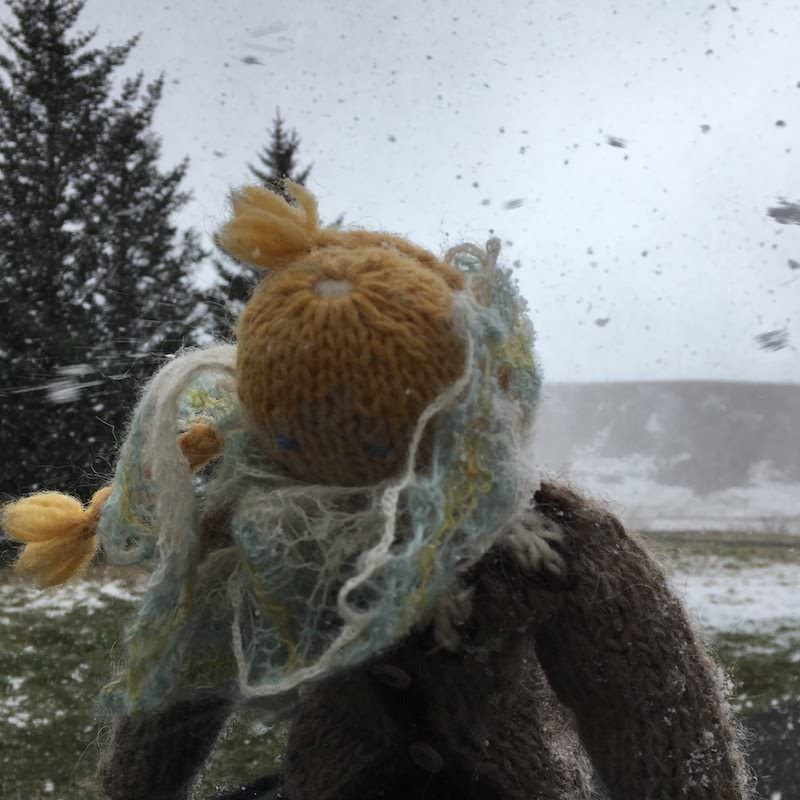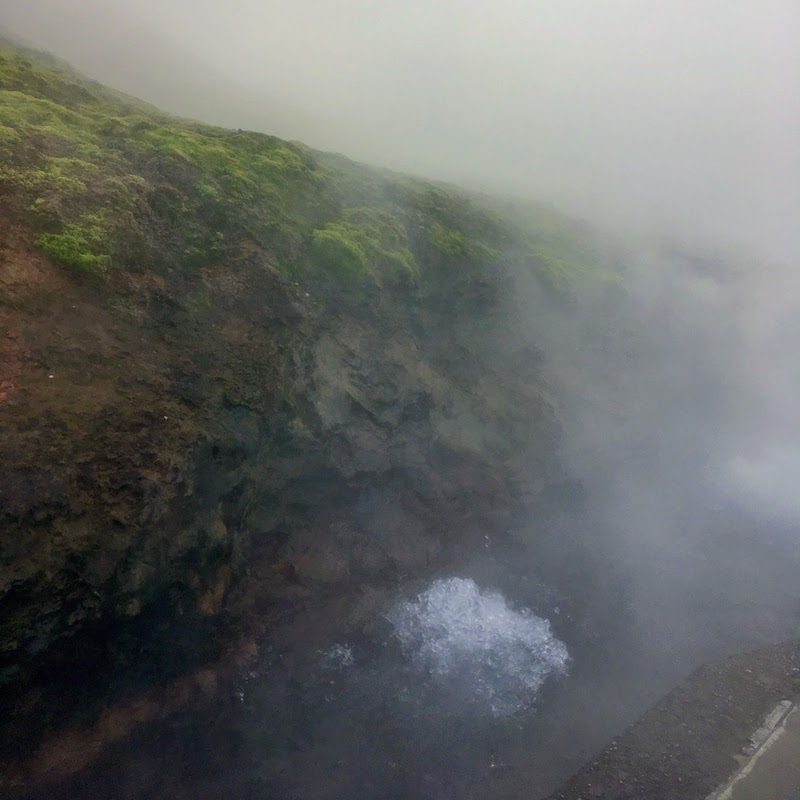 (boiling water…)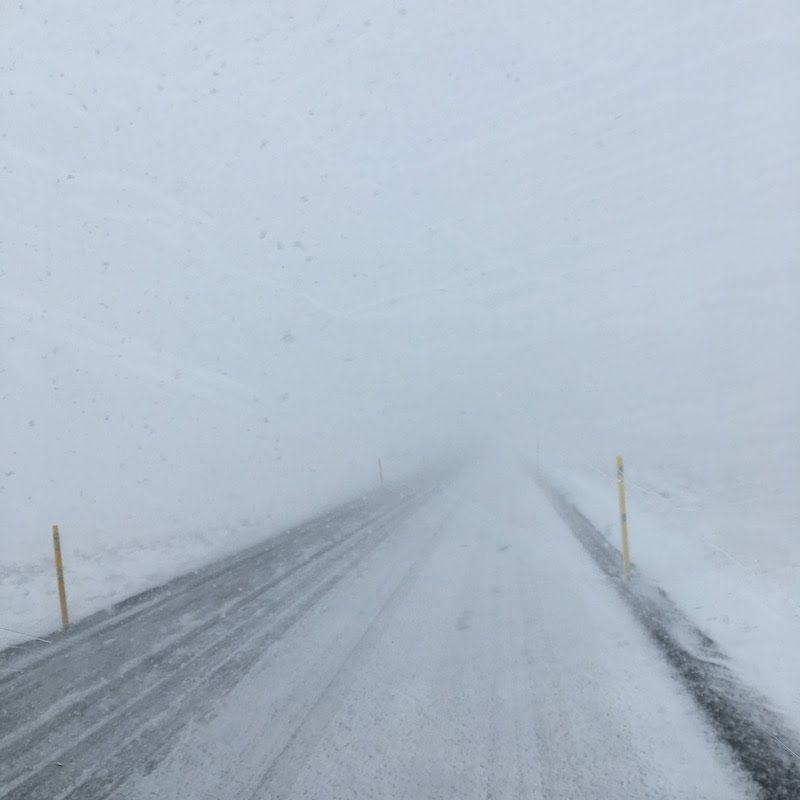 DAY 3 – This was the view from my room when I woke up that morning… otherwise we knitted a lopi sweater in just one day!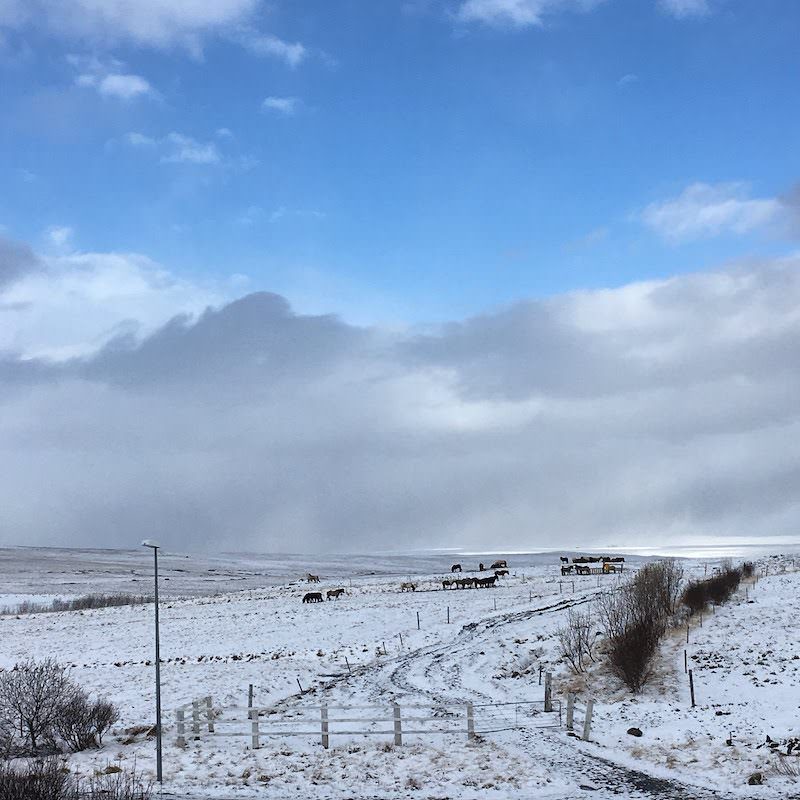 And this is the same view with no snow at all (but check back in half an hour!) and a finished lopi sweater, as I said.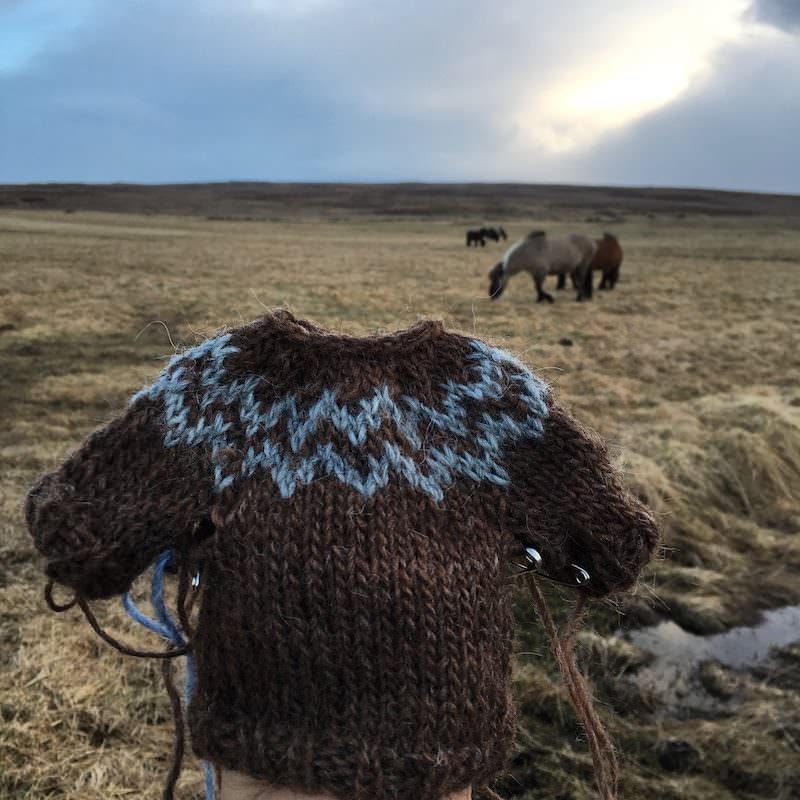 DAY 4 – all about the history and knitting traditions! Happy and tired after this busy day, thankfully my little assistant Theodóra doll, wearing for the occasion her traditional Icelandic costume (with modern baskets!!!) is here to help!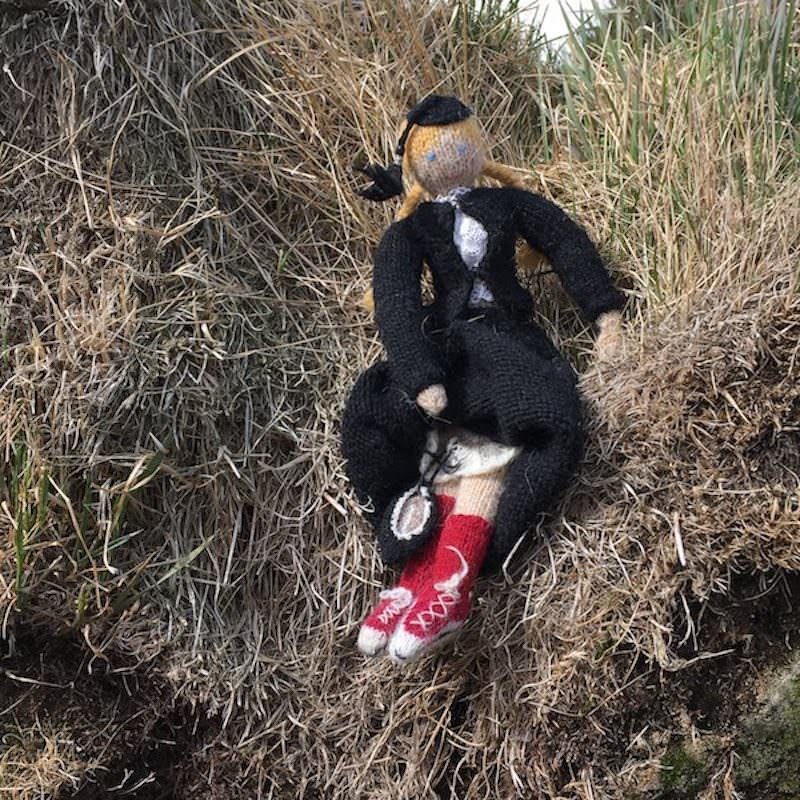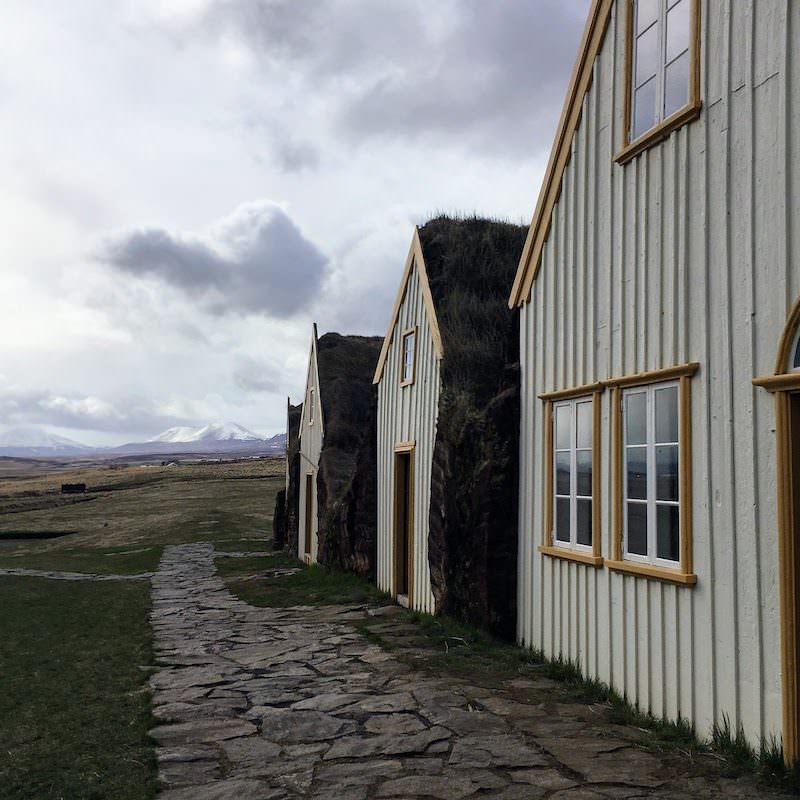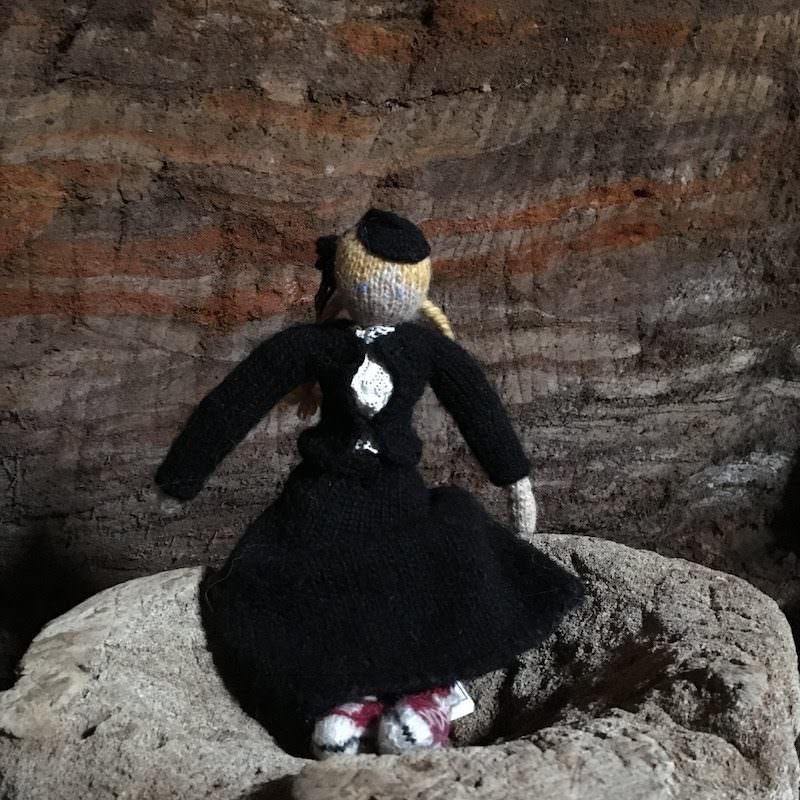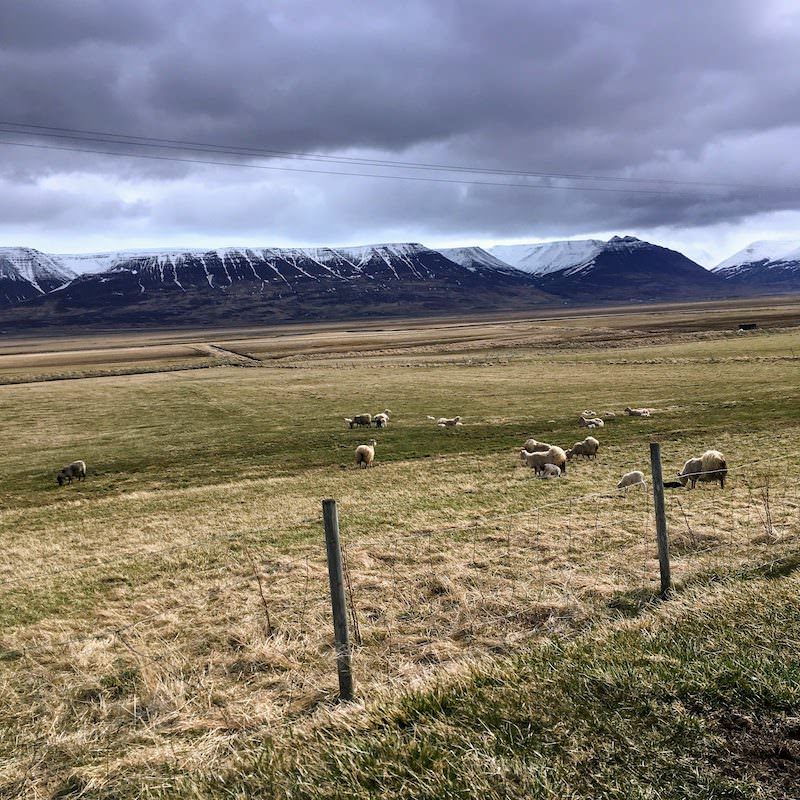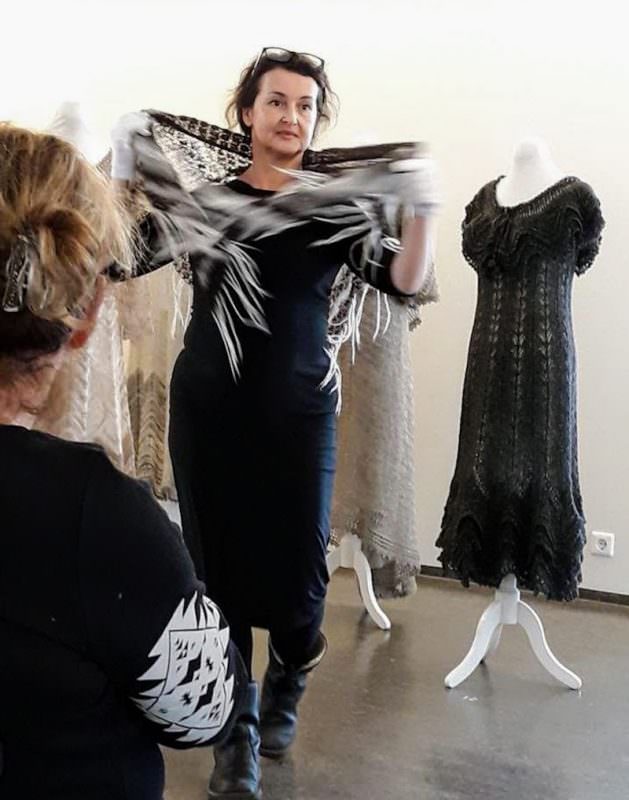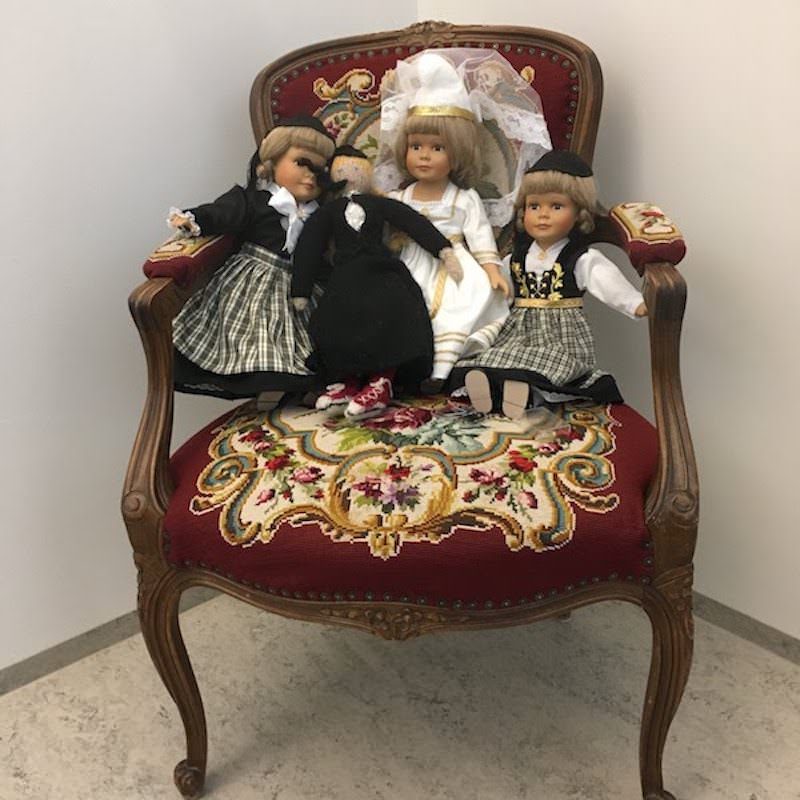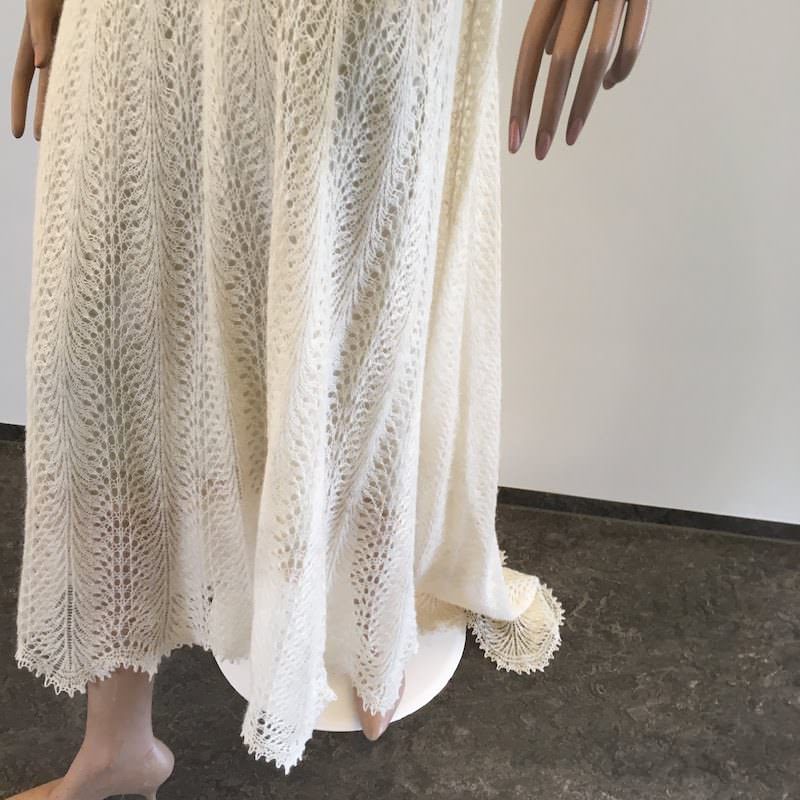 And still this crazy mix of sunshine, snow, hail, rain, wind!!!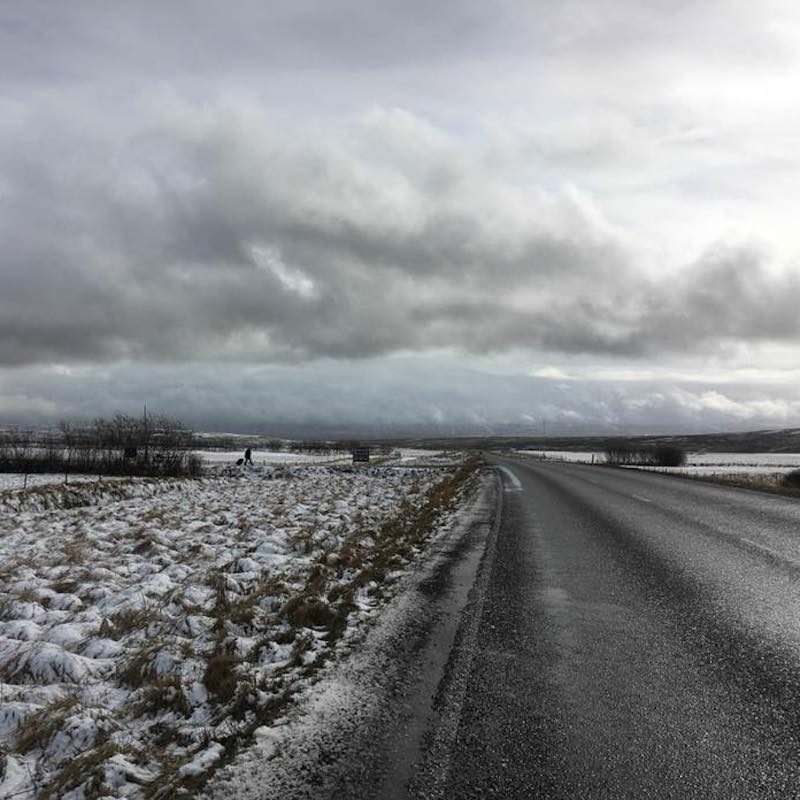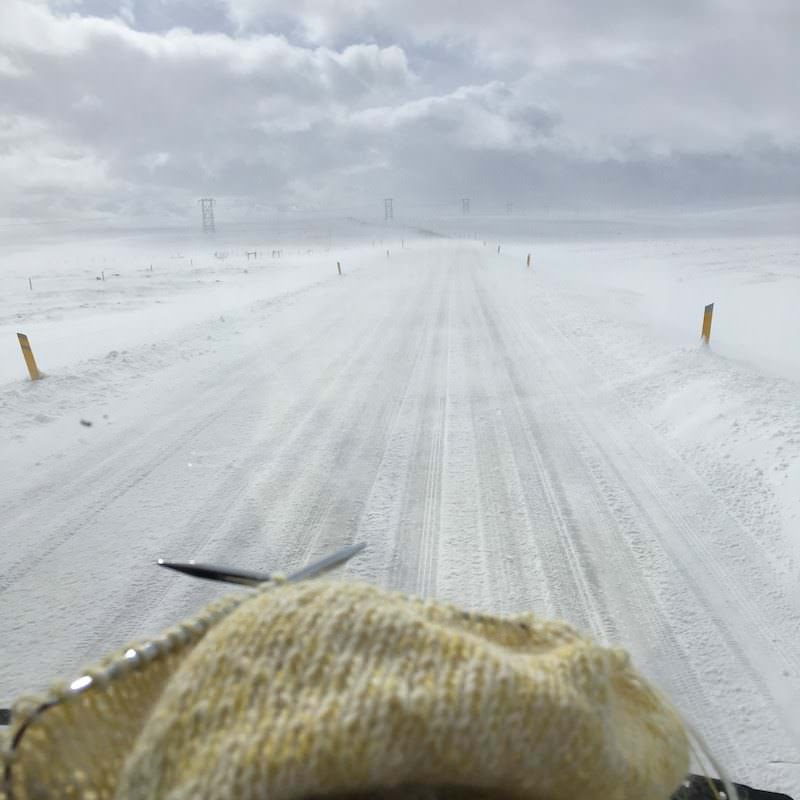 Layering is the best type of clothing in this weather: Gamaldags sweater underneath my Utivist sweater. And the sun glasses.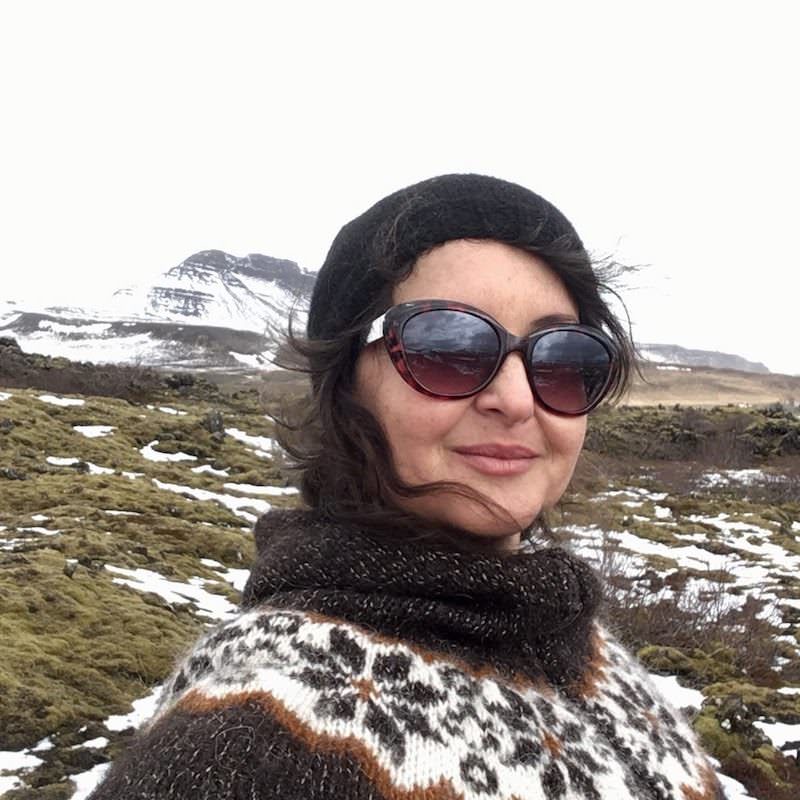 DAY 5 – A cuddly day with cashmere goats and Icelandic sheep: the dads, the mums, the babies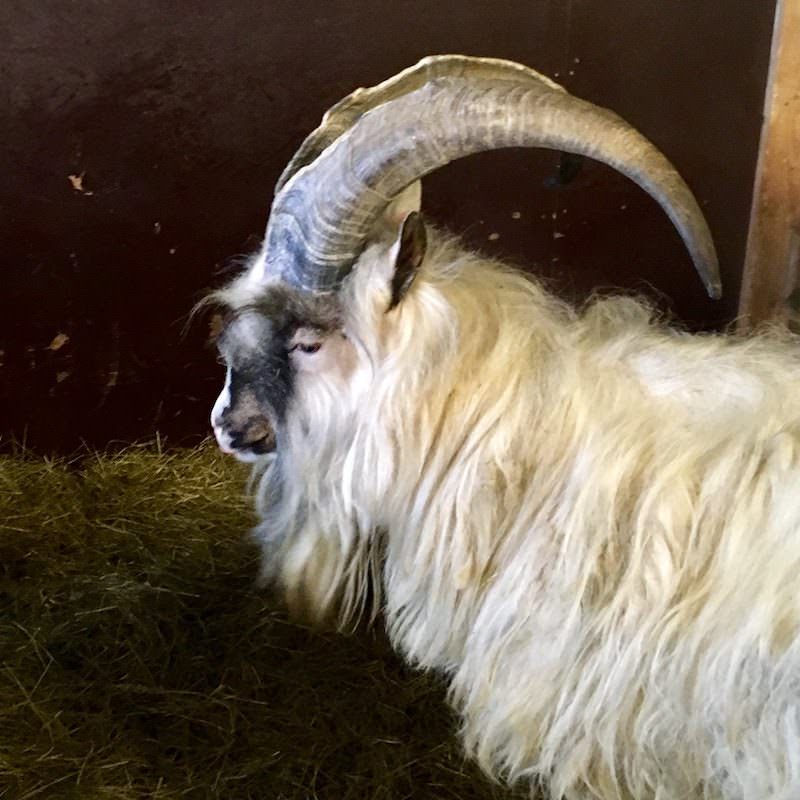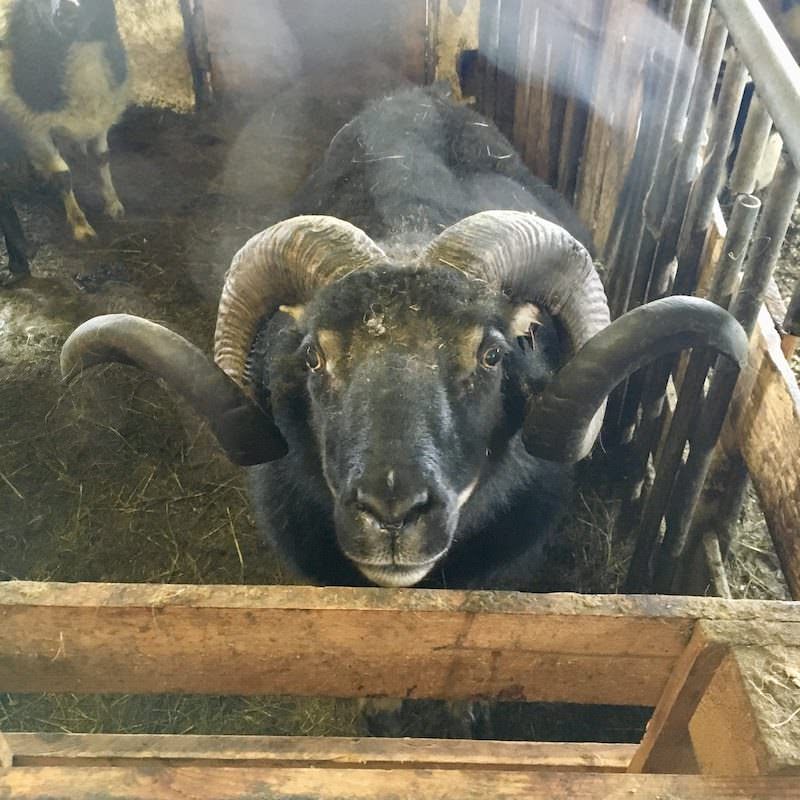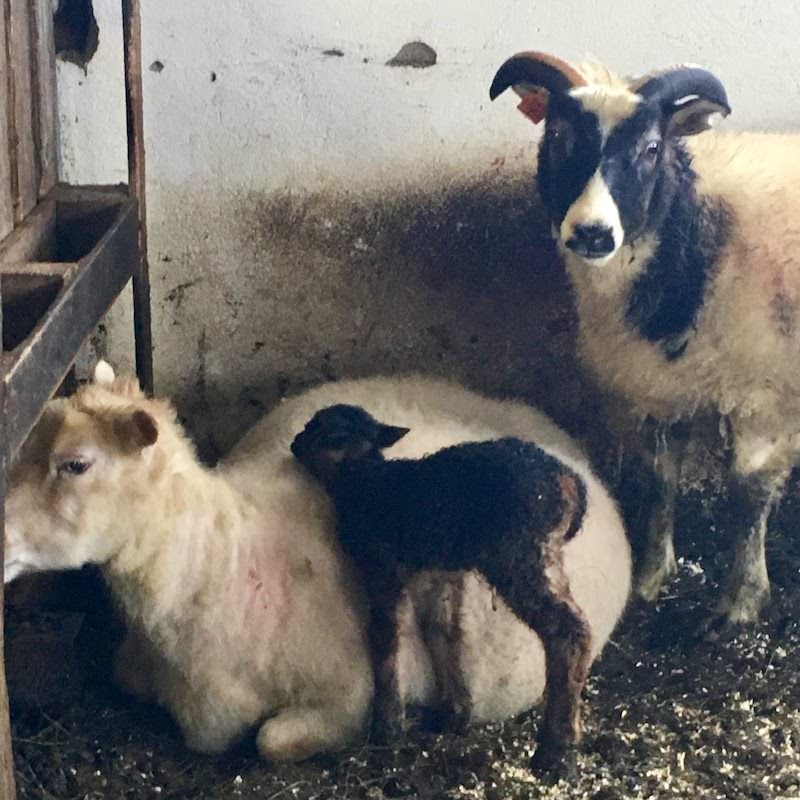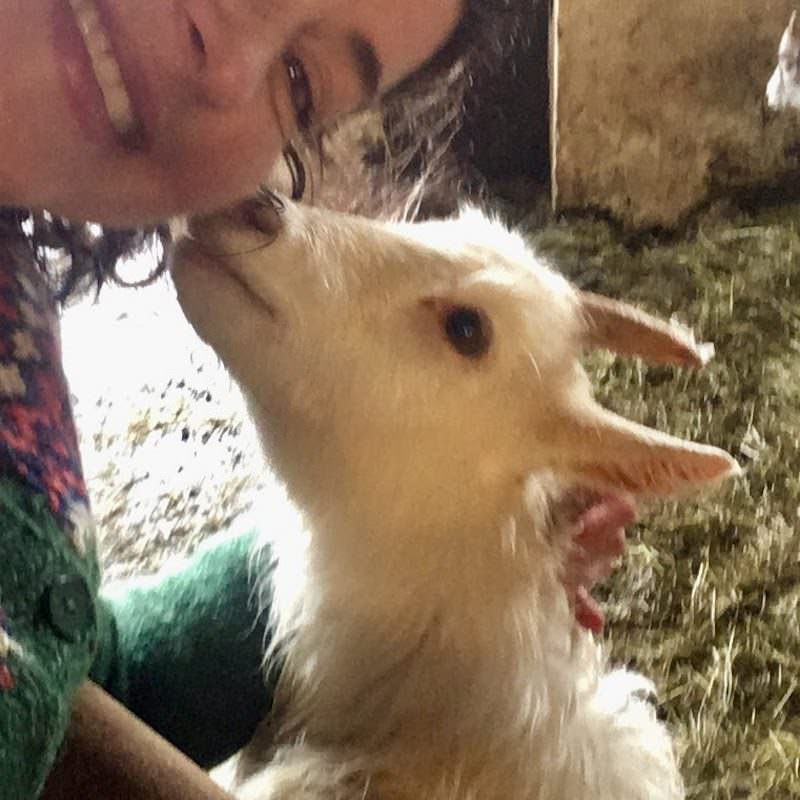 Also beautifully inspirational colors!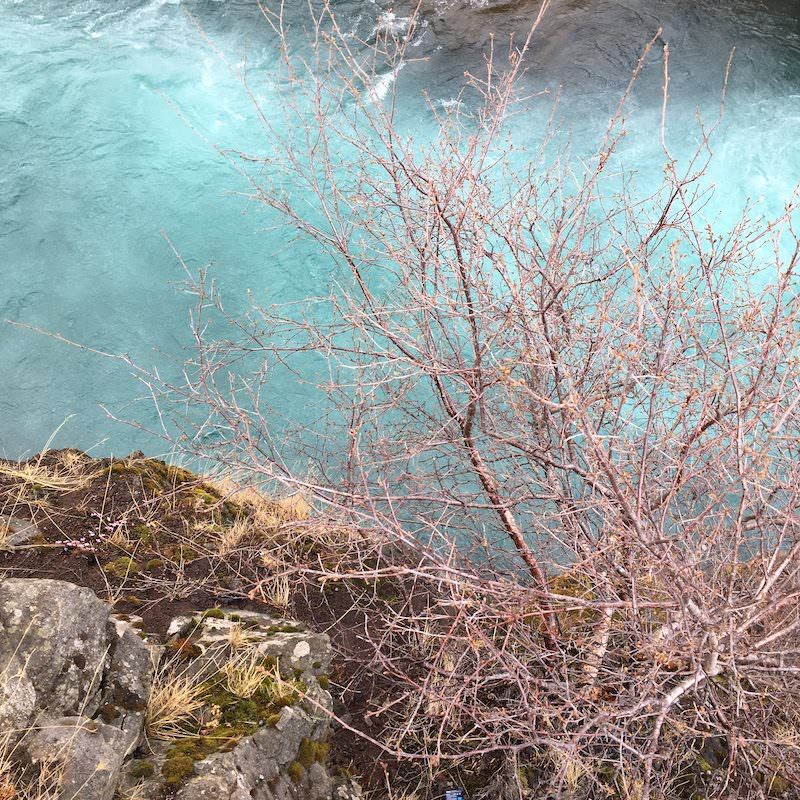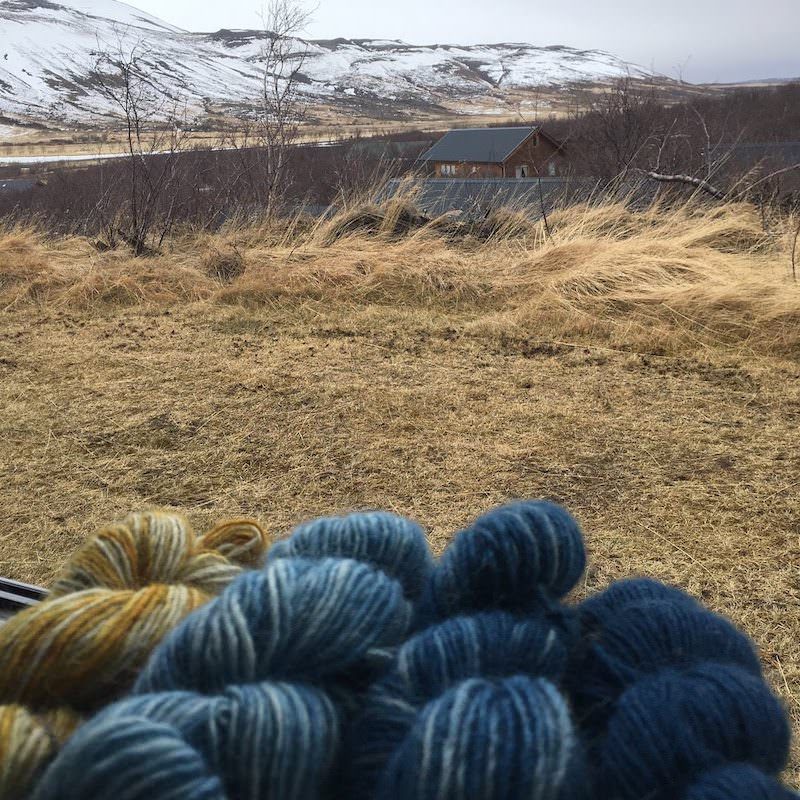 DAY 6 – Steeking and finishing all of our sweaters.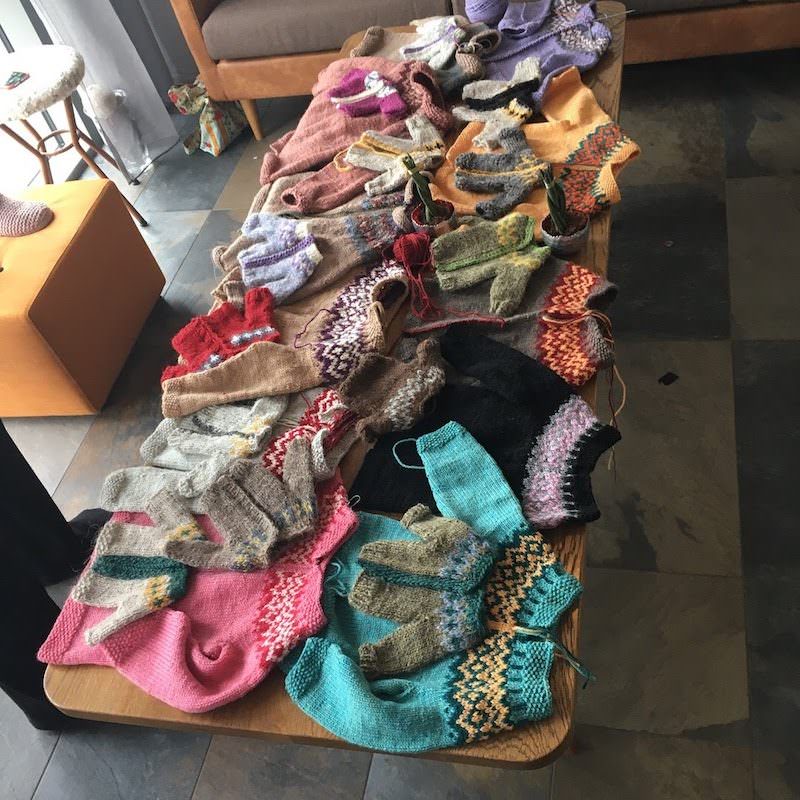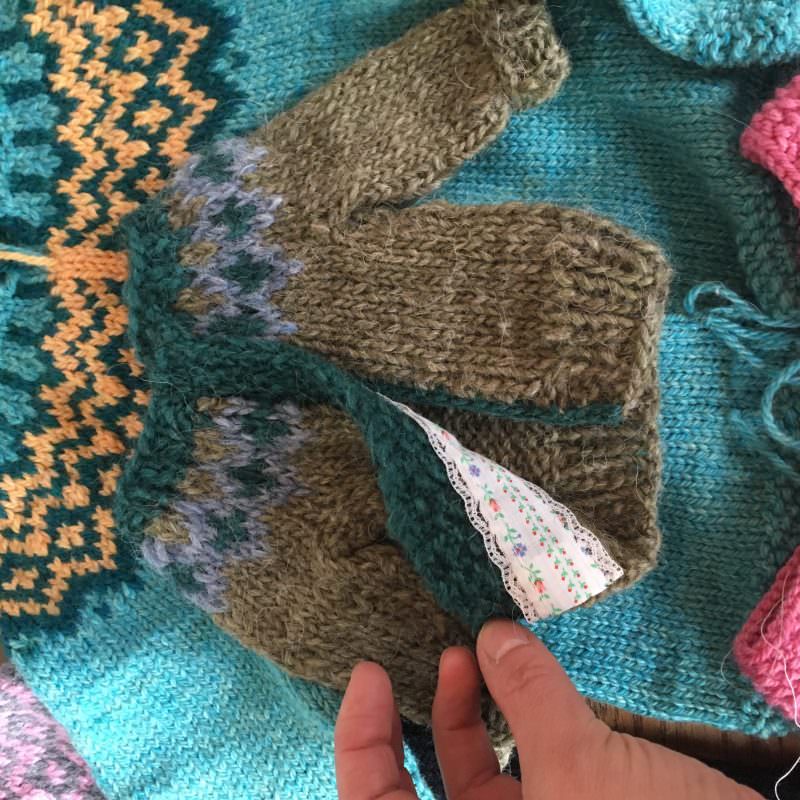 And my lovely assistants made quite an interesting introduction to Icelandic lace.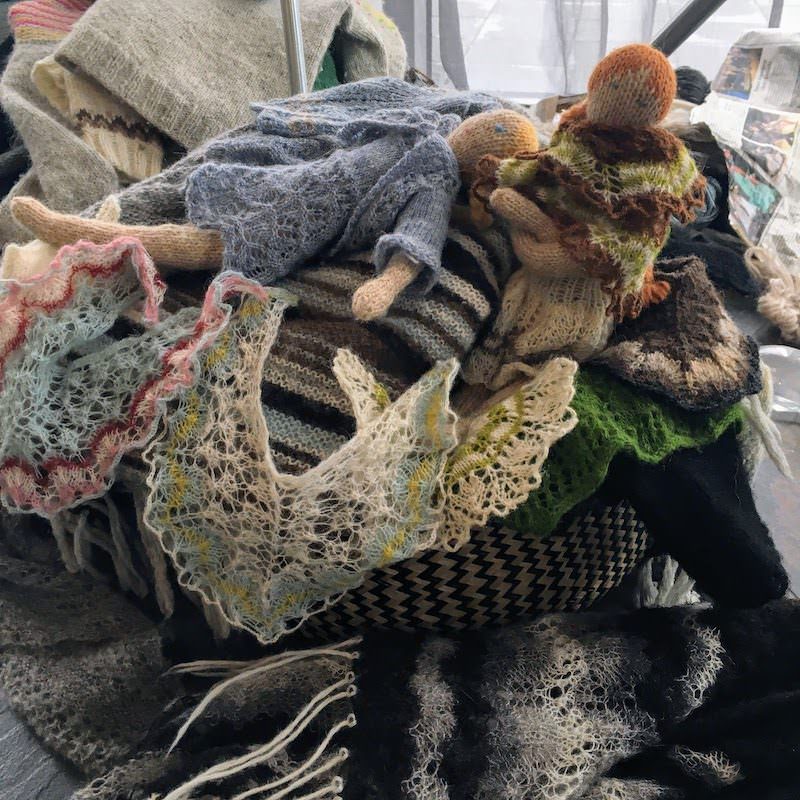 Also enjoying our very own swimming pool, with or without snow, and the birds singing (it IS spring, believe it or not!). Hapisk shawl hanging in the trees.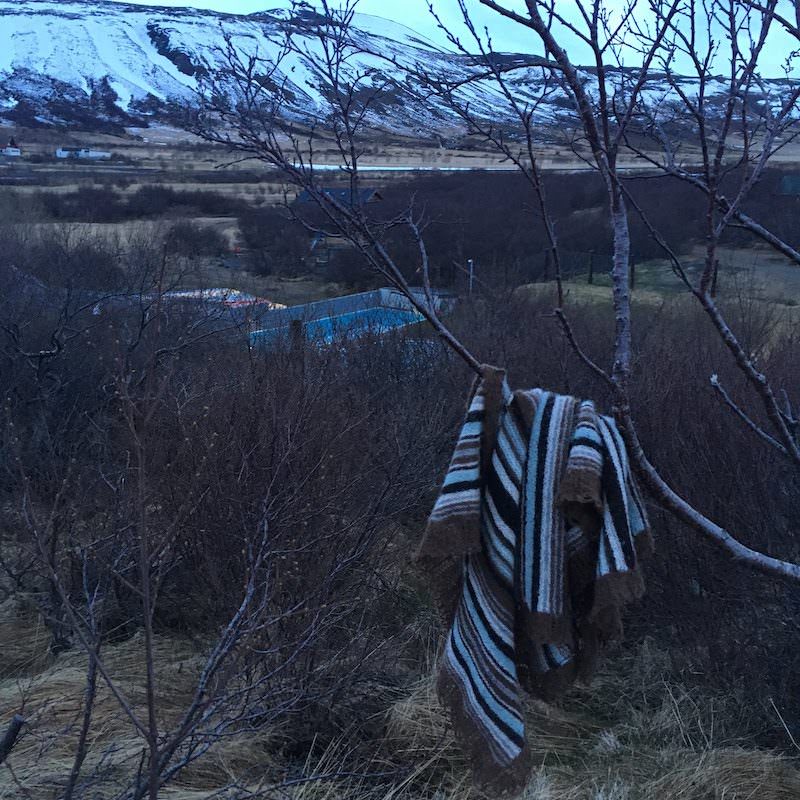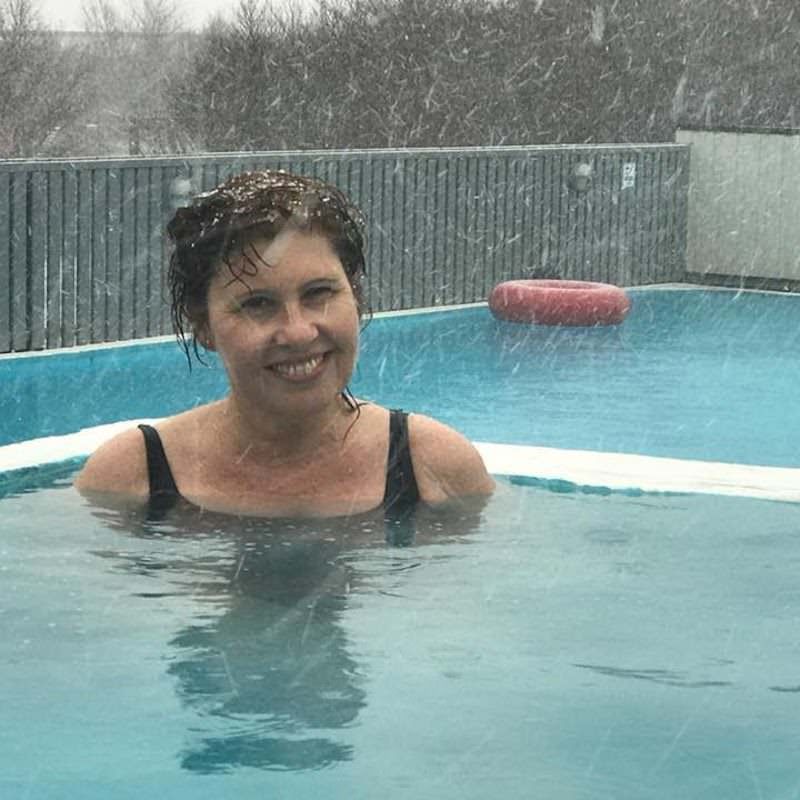 DAY 7 – A day full of wool!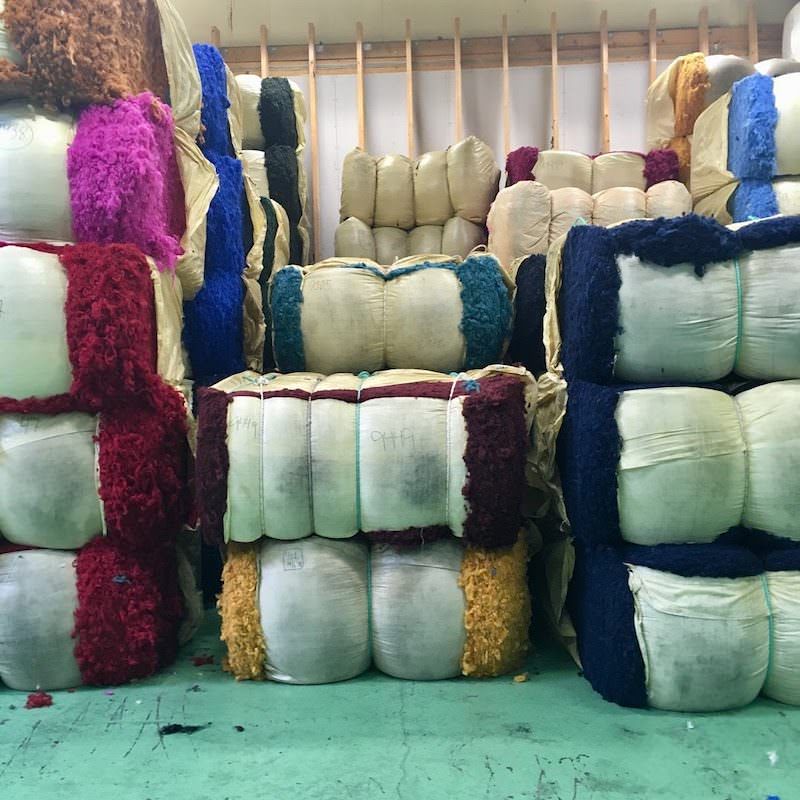 The wool has been dyed into solid colors at the Ístex mill, then they will be mixed and carded together to make all the different shades.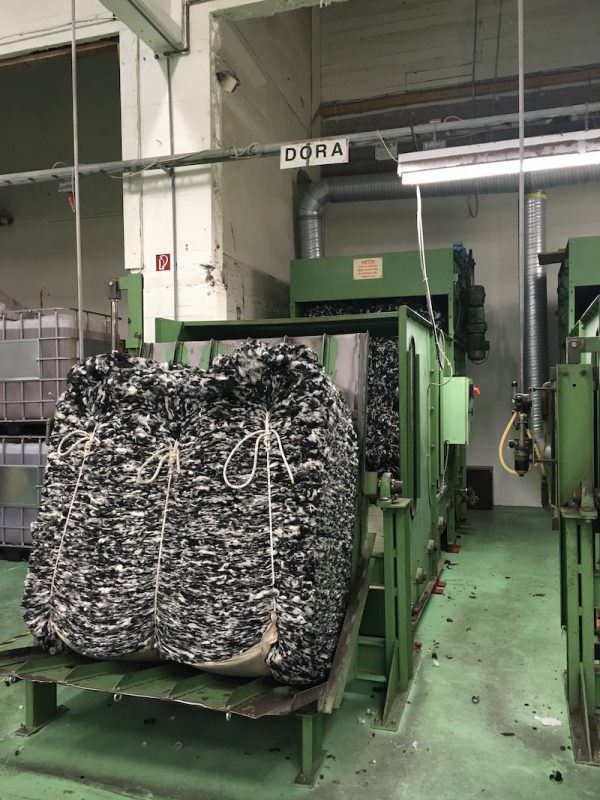 This is how the mill make the grey lopi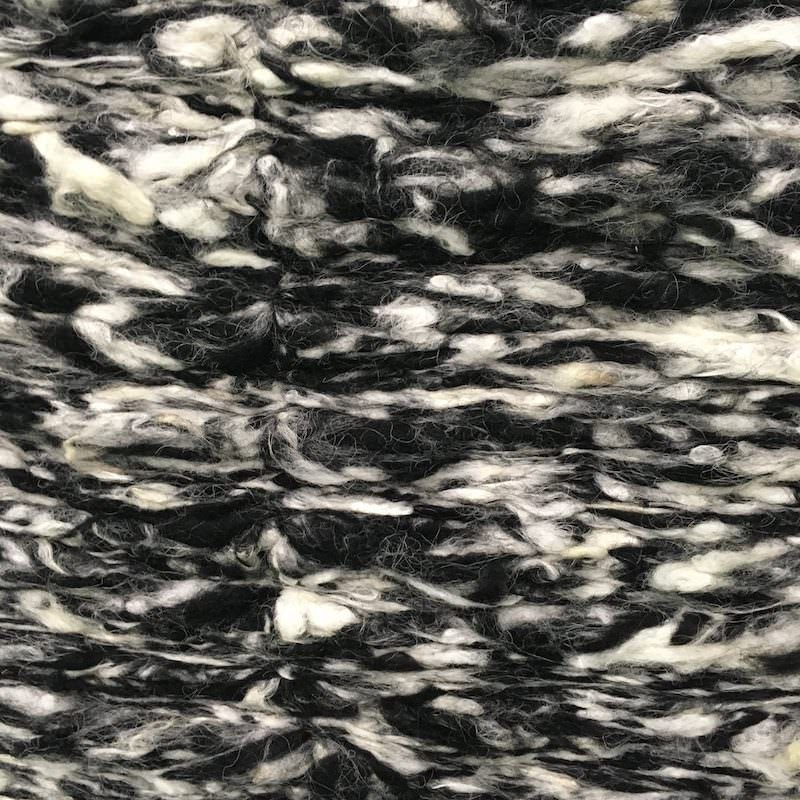 Here is the yarn at the end of the process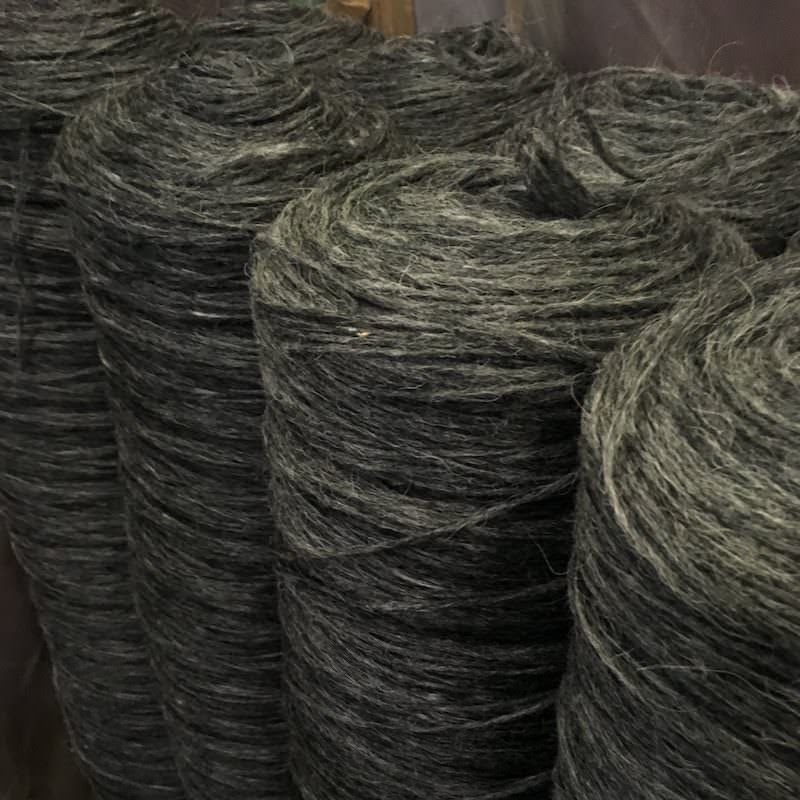 This is some light brown in the making.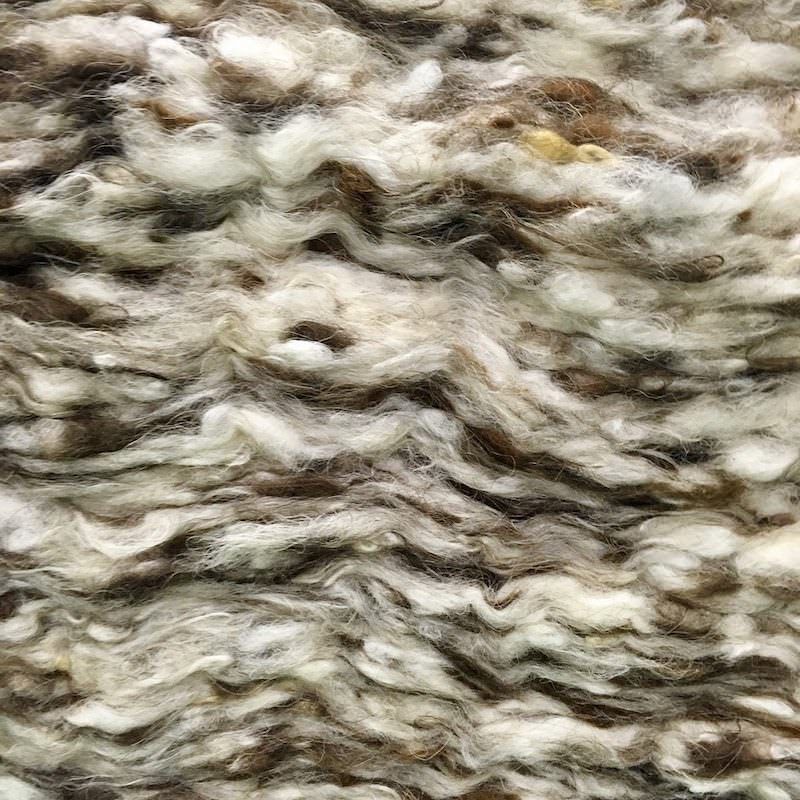 And the result? A wall full of lopi!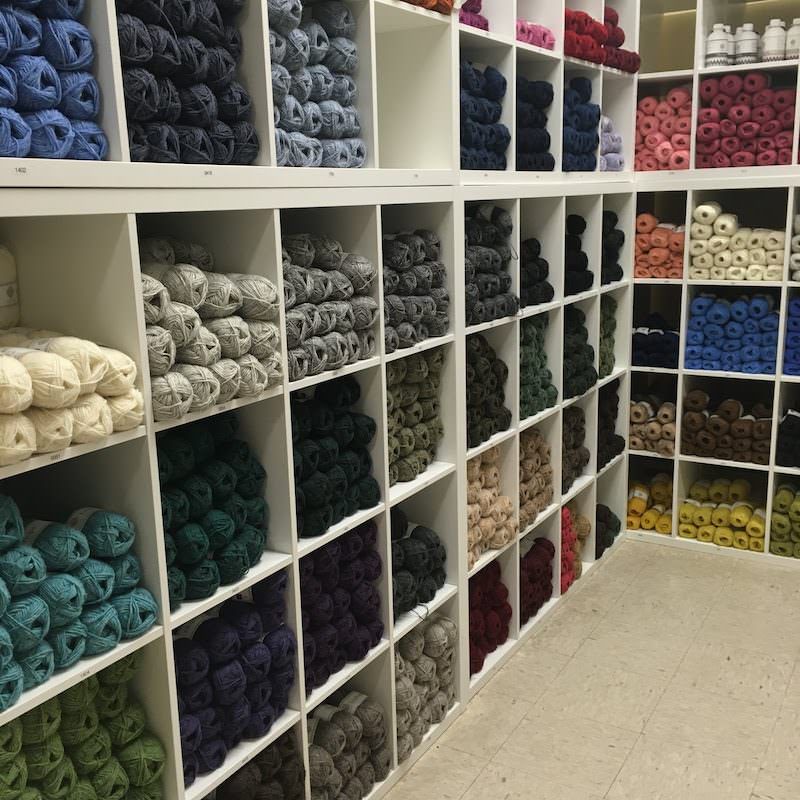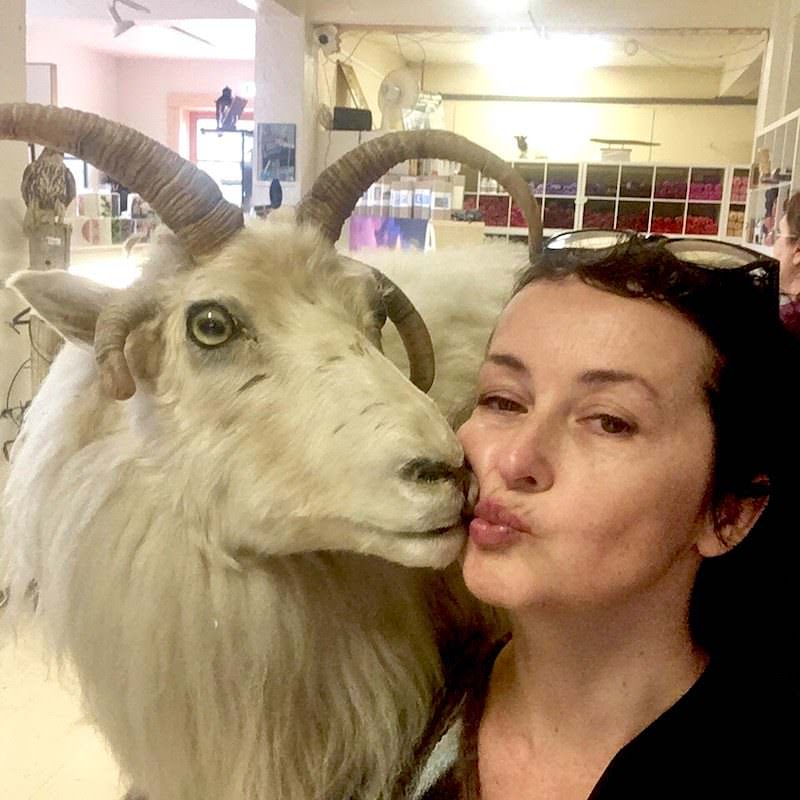 Not a full wall, but some shelves in my workspace with my delicate Love Story and Gilitrutt lace yarns.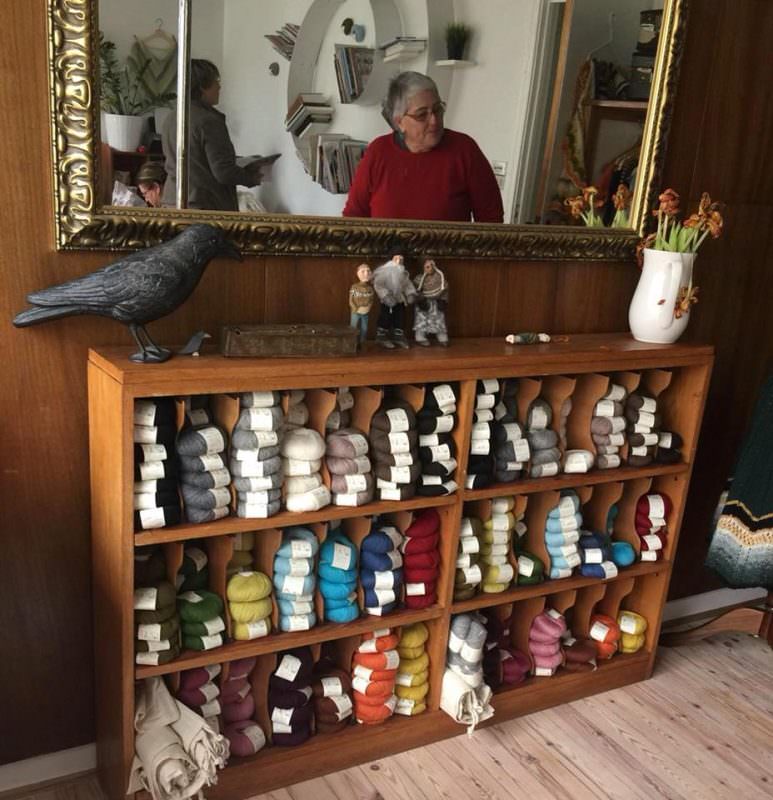 Here the natural colors are those from the Icelandic lamb (the 5 from the left). The light Hafra beige (the 3rd from the left) is obtained by carding together white and natural brown, but the darker Basalt grey however is mixing dyed Raven black and white (the two skeins on the right).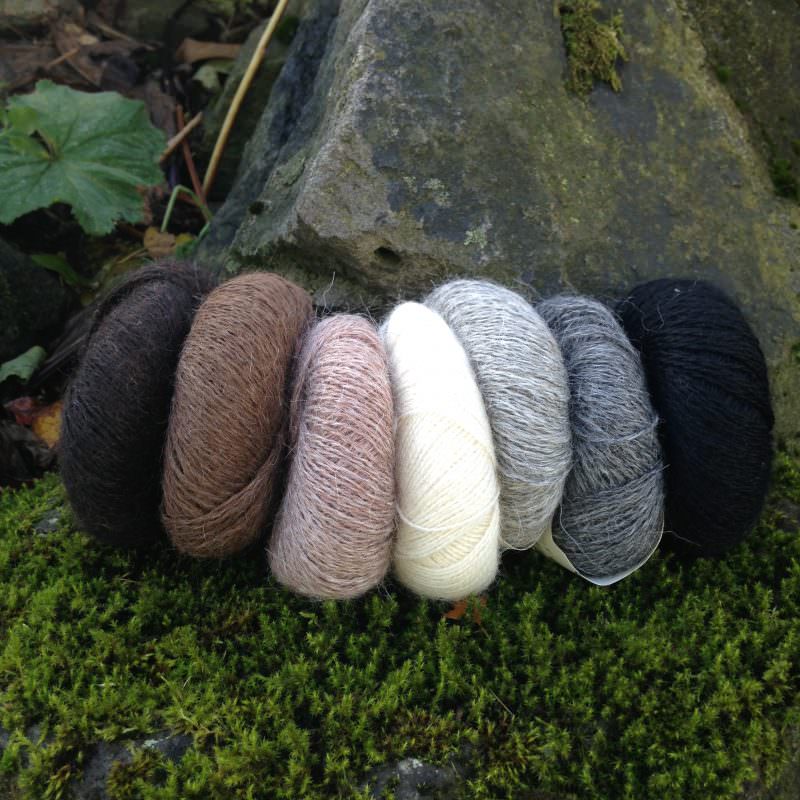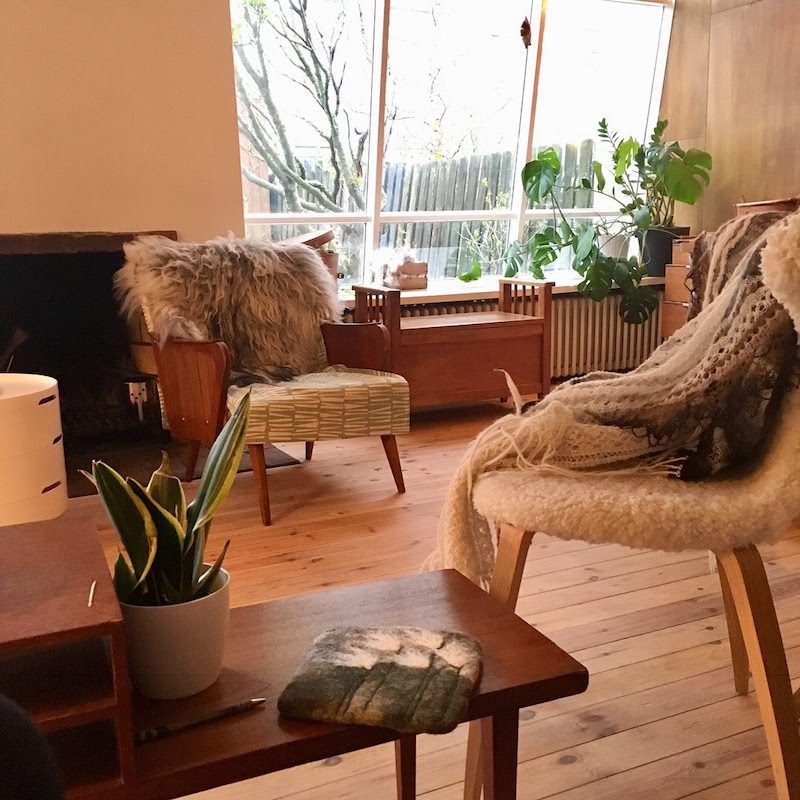 DAY 8 – The ladies took a delicious day tour today, Reykjavík by food, and more yarn shop, wool and shopping 🙂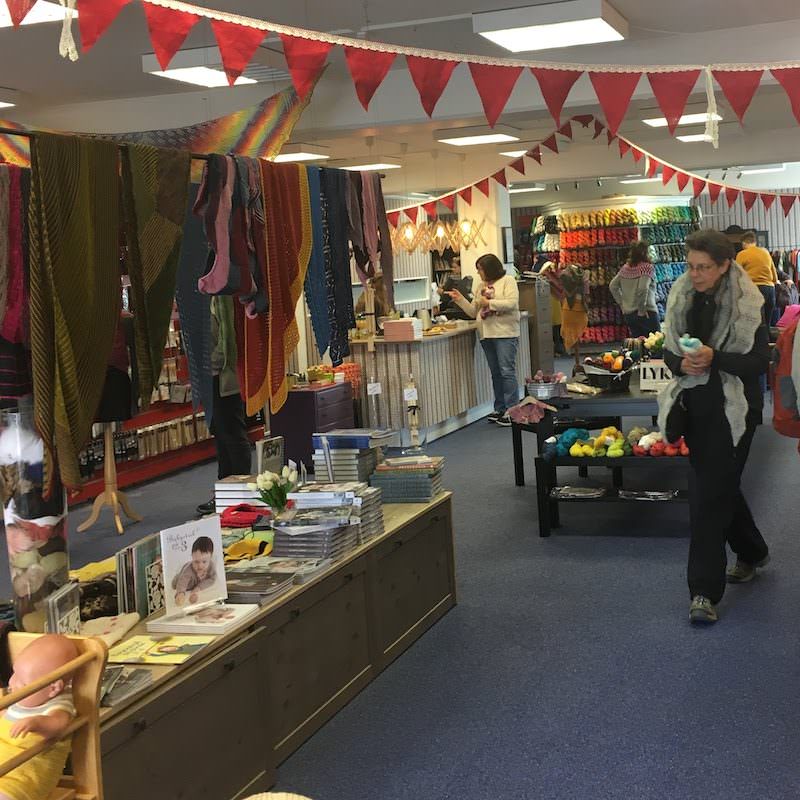 PS: Not that we eat badly AT ALL during the tour…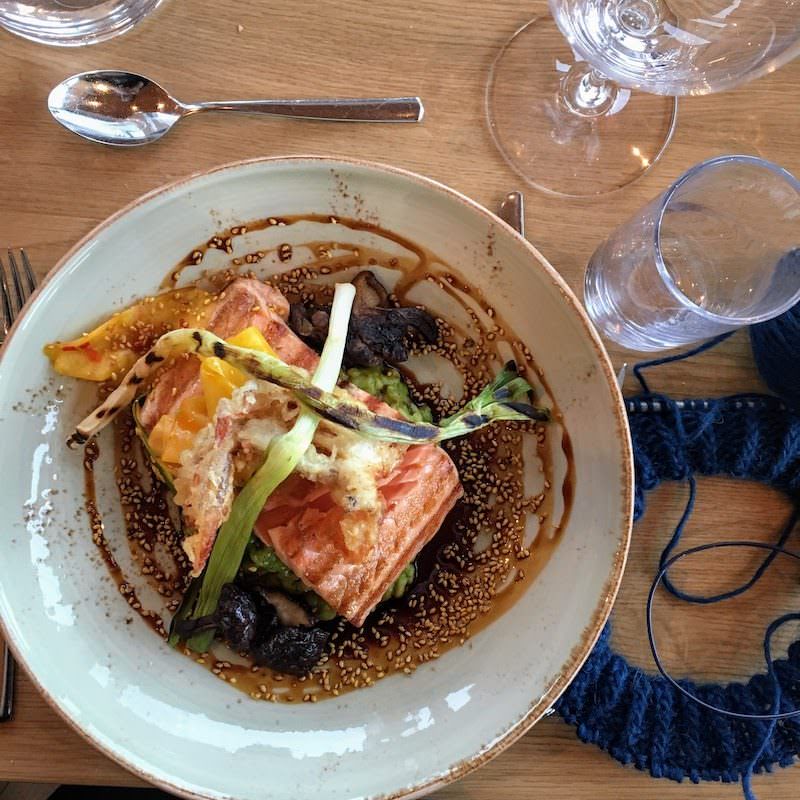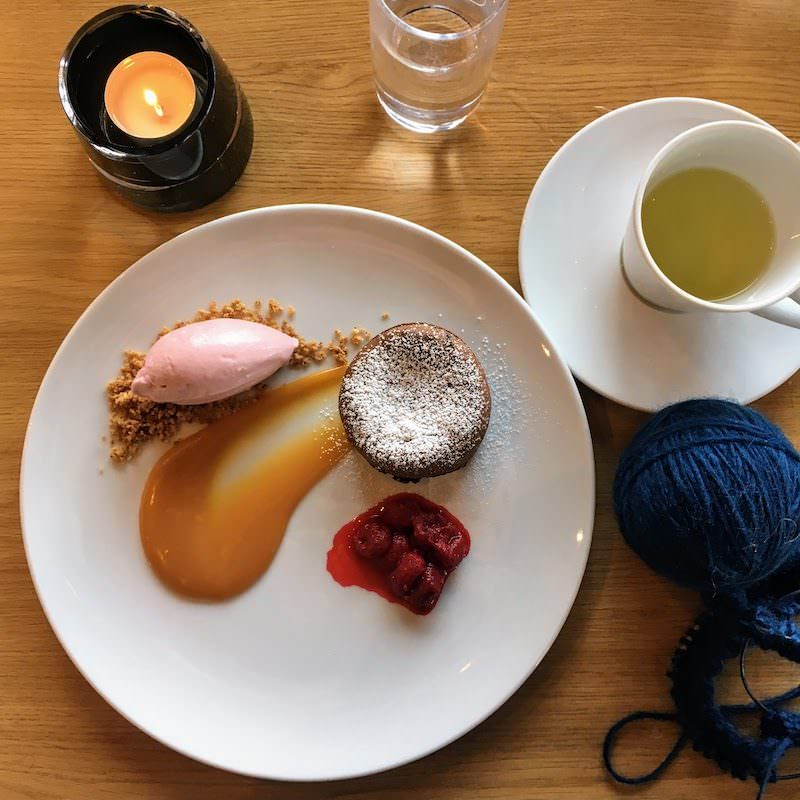 The ladies were very happy and tired. So was I and also… blushing!!!! Much love!
"Thank you very much for a wonderful experience. We enjoyed very minute of our trip."
"Your turned a sweater into a history of Iceland and through the garment gave us a great understanding of Iceland life, culture and geography."
"You are so passionate, talented and enthusiastic – which made everything very special. It was a real treat to meat you and learn from you."
Varan er eining til á: English French